Bad Moon Rising (Strikeforce Agent Valerie Inglewood Book 1)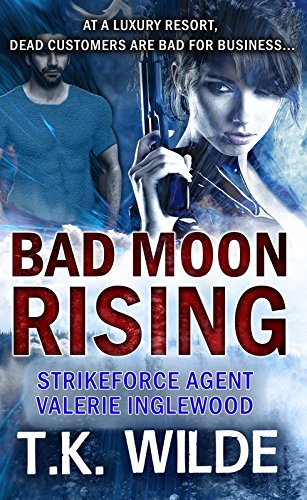 Valerie Inglewood just landed her dream job.
At a Luxury Resort, Dead Customers are Bad for Business...
FREE ON KINDLE UNLIMITED
Valerie Inglewood just landed her dream job. She's the second woman ever selected to the elite Strikeforce Investigation Team out of Denver, Colorado. Can Val crack her first case before she becomes the next victim? Is her new love interest a calculating killer after all?
She's partnered with the legendary Charlene Brockworth, the first woman ever selected to the team. Can Val live up to Charlene's exacting standards and reputation, or will she fall flat on her face and wind up scrubbing toilets back at the Alleycat Boarding House? She's about to find out - Valerie doesn't even have time to put her pictures on her desk before she and Charlene get called up to investigate a mysterious murder at the elite Mackenzie Hunting Lodge in the remote Rocky Mountains. The Lodge holds an eclectic mix of eccentric personalities, some of whom are up to activities more sinister than hunting.
The case takes an ominous turn when Charlene goes missing under suspicious circumstances and Val finds herself thrust into the lead.
And to make matters worse, she can't deny the attraction she feels whenever she interviews the prime suspect, the Lodge's blue-eyed maintenance man, and local heartthrob, Jeff Everson.
Order Now!