Writing Tips and Tricks: More Than 40 Ways to Improve YOUR Writing Today! (Authors Secrets Book 1)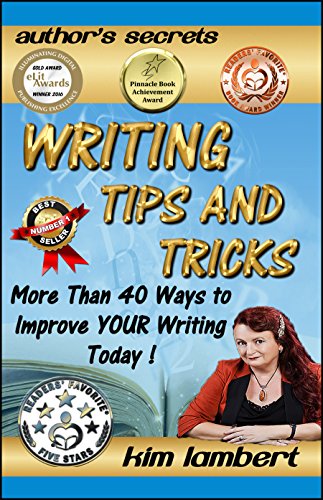 Do you love to write, but struggle to do so ? If so, this is the book for you!
** WINNER 2016 GOLD e-LIT AWARD!! ***
*** READERS FAVORITE 5 STAR REVIEW ***
Do you love to write, but struggle to do so ? If so, this is the book for you!
Packed with amazing tips and tricks, to get you unstuck from 'writer's block' and to improve your writing in dozens of little ways, there are tips about all aspects of writing, for both fiction and non-fiction authors.
You will love the positive impact that these quick, easy to apply tips have on your writing. Grab your life changing copy today!
Here's what Reader's Favorite had to say about this book:-
Deciding to read Writing Tips and Tricks by Kim Lambert was one of the best and most timely decisions I've made in the past year! Why? Because I'm a writer who has paralysed my writing by procrastinating for some months now. Then I picked up Writing Tips and Tricks, and suddenly I recognized what had been holding me back, knew where I needed to go and what I needed to do to get there. What a brilliant book!
Now I'm not going to say that I haven't heard all that Kim Lambert has to share. I have. But the best feature of Writing Tips and Tricks is the way this book is laid out. For starters, it's short, meaning a quick read. Second, its appearance facilitates reading: lots of white space between short paragraphs. That's not just easy on the eyes: it's easier to assimilate and remember. Third, and I think this is what pleases me most, is seeing that Kim Lambert does exactly what she advises us to do. That is utterly powerful. If Kim says keep the language simple, she keeps it simple. If she suggests you need to keep the reader uppermost in your mind as you write, she does that. I know from years of experience that the best way to show someone how to do something is to do it yourself. Kim Lambert practices what she preaches.
Kim Lambert is no novice at writing these types of "how-to" non-fiction books. She is an 8-times Amazon award winning writer. I can tell she also knows a great deal about good copy writing. So many of her suggestions are the tenets of writing good sales copy. But does this book only apply to those who write non-fiction? Not at all. Kim Lambert bounces back and forth, showing how what she's explaining applies to and works for both fiction and non-fiction. Those interested in writing fiction will find themselves refreshed by her ideas on how to get going, find characters, and create realistic dialogue and effective descriptions. As someone who teaches creative writing, I most certainly plan to use some of the ideas she presents in my upcoming workshops, along with recommending that participants immediately purchase a copy of Writing Tips and Tricks.
One of the "coolest" things I discovered in this book was how to create a series of books by not putting everything I know in one book. I had never thought of this before. It explains why some of the most successful authors and bloggers that I follow have dozens of books and thousands of followers to their credit, just like Kim Lambert does. How do they find so much material for book after book? When you read Writing Tips and Tricks by Kim Lambert, you will find out how to do that too. And as Kim points out, not only do you then build a following and increase your presence and credibility as an author worth reading, but you always have another book in the works. Curious? If you really want to write, not just one book but several, you should be. Pick up a copy of Writing Tips and Tricks by Kim Lambert today and start writing tomorrow.
Reviewed By Viga Boland for Readers' Favorite
Order Now!